OUTFITS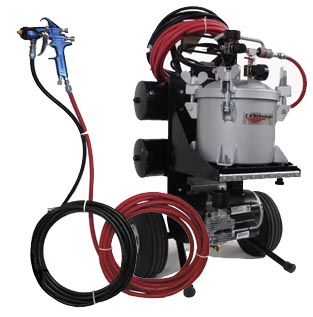 The BLACKCAT is a portable HVLP system that allows the user to spray with a constant 10 psi at the gun, unlike competitive units. The 3 H.P. V-Twin oil-less compressor is quiet and a proven workhorse. Match that with our 2.5 gallon pressure tank, cart, 25' air and fluid hose and Lynx L100H and you have the most uniquely designed portable unit available.
Specifications:


Horsepower - 3 HP
Air Recievers - (2) 2 gallon tanks (4 gal. total)
SCFM - 5.6 to 8.8 depending on pressure
Voltage - 120/Single Phase (14 AMP)
Unit Weight - 156 Lbs.
Max. Pressure - 120 psi / 80 psi pressure pot



COMPRESSOR PARTS BREAKDOWN | BLACKCAT SALES SHEET
---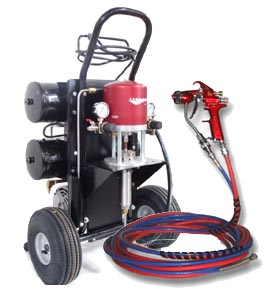 C.A.Technologies Cougar/Bobcat spray outfits are now available as a self-contained unit with 3 HP compressor, 4-gallon air tanks and the AAA pump all packed nicely on a sleek compact cart, making it the most effective tool for any job any place.
Specifications:


3 HP COMPRESSOR (100 P.S.I. MAX)
COUGAR/BOBCAT AAA GUN
NO STALL AIR MOTOR DESIGN
4 GALLON AIR TANK (TWIN 2 GALLON)
14:1 RATIO STAINLESS STEEL PUMP
COMPACT DESIGN



COMPRESSOR PARTS BREAKDOWN | OB-PC SALES SHEET
---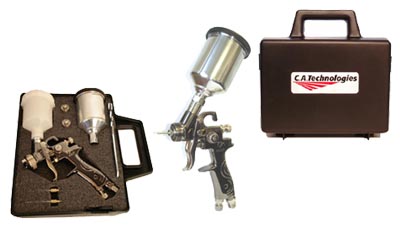 The Glaze Tjr. kit from CAT is intended to give finishers the option of being able to spray their glaze on the surface-great for shading or lay a bead of material with precisision. The New Glaze nozzle works without air and simply allows you to lay the smallest bead of material on your surface great for placing the glaze in raised door panels or special projects.
TJR-GLAZE PART SHEET
| TJR-GLAZE SALES SHEET
---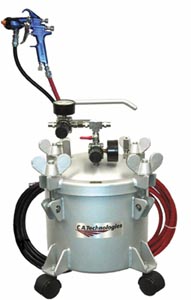 C.A.T. gun and tank outfits include the following options: Teflon coated, all stainless steel or stainless steel fitted, 2.5, 5 and 10 gallon tanks. Hand and air agitated tanks available. Outfits are standard with 25' 5/16" air hose and 25' 1/4" fluid hose. Your choice of of any CAT pressure gun invluding HVLP and Conventional, Panther series for Zinc or industrial coatings.
TANK SALES SHEET
---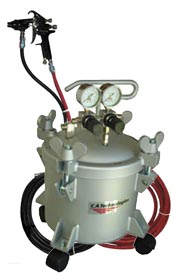 C.A.T. P100G outfit is designed especially for glue applications. The Panther is teflon coated for easy clean-up with stainless steel fluid passages. The 2.5 gallon tank is standard with stainless steel pick up tube, rigid plastic liner and dual regulators. The outfit includes 25' 5/16" air hose and 25' 1/4" fluid hose. Optional 3/8" diameter fluid hose is available.
P100G PART SHEET
| CAT ADHESIVE SPRAY SALES SHEET
---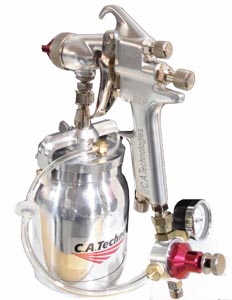 C.A.T. 1 quart pressure cup outfits are ideal for small jobs when easy clean-up is required. These outfits have two cup options, the 51-303R and the 51-303. The 51-303R has a regulator at the gun handle for up to 10 PSI fluid pressure. The 303R can be used with any of the pressure feed guns offered by CAT. The 51-303 cup is for CAT guns with ported heads only.
1QT PRESSURE CUP SALES SHEET
---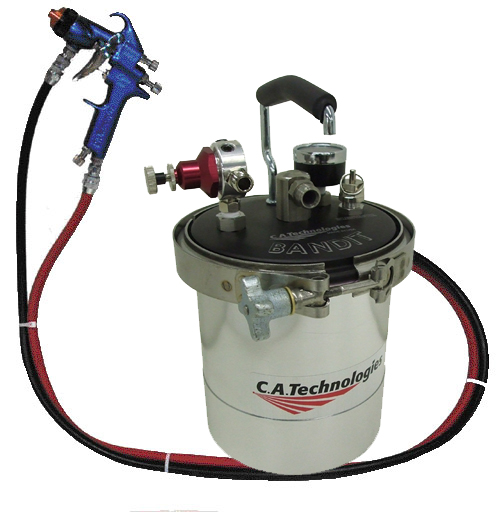 Our 2 quart cup outfits are available in two different models, the 51-600 Bandit (shown above) and the 51-130 economy cup. The Bandit cup features our 360 degree clamp cover design with rigid cup liner. Both cup models are available with dual regulators. For specifications on the cups see page 16. Both outfits include your choice of gun. 5' 5/16" air hose and 5'1/4" fluid hose is also included.
2QT PRESSURE CUP SALES SHEET
---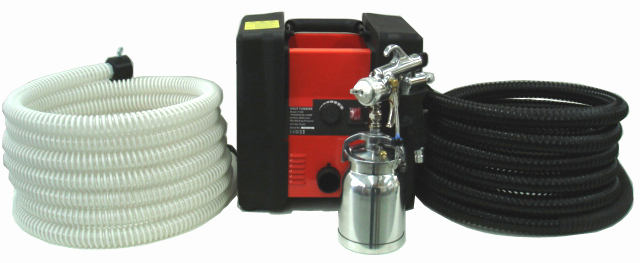 The HVLP Turbine uses an industrial grade 3-stage turbine powered by a 1400W 5.7"motor blade to meet performance needs of professional painters. The variable airflow goes to a maximum of 2800 L/min and pressure of 6PSI for doing big jobs quickly. Standard setup is 1.3mm, with other sizes abailable upon request.
HVLP Turbine Outfit PART SHEET
| HVLP Turbine Outfit SALES SHEET
---
HOME