Air Assist Airless

C.A.Technologies introduces the latest addition to the CAT gun line - the BOBCAT Air Assist Airless gun designed for production wood and metal finishing. Features include lightweight design, stainless steel fluid passages and an integrated fluid filter. The handle is ergonomically designed to reduce fatigue and fit comfortably in any size hand. The trigger pull has been designed to be ultra light resulting in less muscle strain and operator fatigue. An innovative trigger safety has also been integrated into the gun to provide optimum safety. The BOBCAT's superior atomization is achieved with the precise geometry of the airless tip and HVLP air cap, giving you the finest finish possible. C.A.Technologies is now offering a new lightweight and flexible fluid hose. The hose is 1/8" in diameter and will be standard with all BOBCAT wall mount and cart mount outfits.
Specifications:


Air Inlet - 1/4" NPS (m) / Fluid Inlet - 1/4" NPS (m) - Weight - 17 oz.


BOBCAT AAA PART SHEET | BOBCAT SALES SHEET
---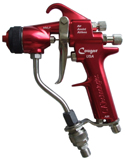 The Cougar Air Assist Airless is a fine finish gun for production wood or metal fine finish spraying. Features include all stainless steel fluid passages, ergonomic design, integrated fluid filter and easy trigger pull. Superfine soft atomization is achieved with precise geometry of airless fluid tip and low volume aircap that mix at the locus of atomization. Delivers desired finishes at production speeds. Pump (below) and gun system can be operated with a 1.5 hp compressor.

Specifications:


Air Inlet - 1/4" NPS (m) / Fluid Inlet - 1/4" NPS (m) - Weight - 23 oz.


COUGAR AAA PART SHEET | COUGAR SALES SHEET
---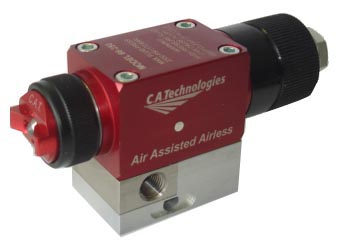 The new auto BOBCAT AAA has all stainless steel wetted areas, great for woodworking and metal finishing. It encompasses a new revolutionary needle design that simplifies maintenance and cleaning. Each gun is packaged with the ability to be used in circulating or non-circulating systems. The gun circulates very close to the tip to minimize material settling. The auto BOBCAT is designed for being a direct replacement for existing competitors guns with virtually no changes in mounting block or hardware.
Specifications:


Air Inlet - 1/4" NPS (m) / Fluid Inlet - 1/4" NPS (m) - Weight - 20 oz.


BOBCAT AUTO AAA PART SHEET | BOBCAT AUTO AAA SALES SHEET
---
C.A. Technologies Air Assist Airless Tips
Part #
Part #
Orifice Size
Angle
(Degrees)
Pattern
Width
Part #
Orifice Size
Angle
(Degrees)
Pattern
Width
36-207
36-207-F
0.007
20
4"
36-315
0.015
30
6"
36-407
36-407-F
0.007
40
8"
36-415
0.015
40
8"
36-309
36-309-F
0.009
30
6"
36-515
0.015
50
10"
36-409
36-409-F
0.009
40
8"
36-615
0.015
60
12"
36-509
36-509-F
0.009
50
10"
36-715
0.015
70
14"
36-709
36-709-F
0.009
70
14"
36-815
0.015
80
16"
36-211
36-211-F
0.011
20
4"
36-417
0.017
40
8"
36-311
36-311-F
0.011
30
6"
36-517
0.017
50
10"
36-411
36-411-F
0.011
40
8"
36-617
0.017
60
12"
36-511
36-511-F
0.011
50
10"
36-717
0.017
70
14"
36-611
36-611-F
0.011
60
12"
36-419
0.019
40
8"
36-213
36-213-F
0.013
20
4"
36-619
0.019
60
12"
36-313
36-313-F
0.013
30
6"
36-719
0.019
70
14"
36-413
36-413-F
0.013
40
8"
36-621
0.021
60
12"
36-513
36-513-F
0.013
50
10"
36-721
0.021
70
14"
36-613
36-613-F
0.013
60
12"
Note: Carbide tips spray pattern is guaranteed to +/- 5 degrees (one inch). Double degrees to determine fan inches.
*The 36-XXX-F is the new opti-tip that is proven to help reduce micro-bubbles when spraying primers and waterborne coatings. Opti-tips also provide optimized atomization of top coats, primers and paints.
---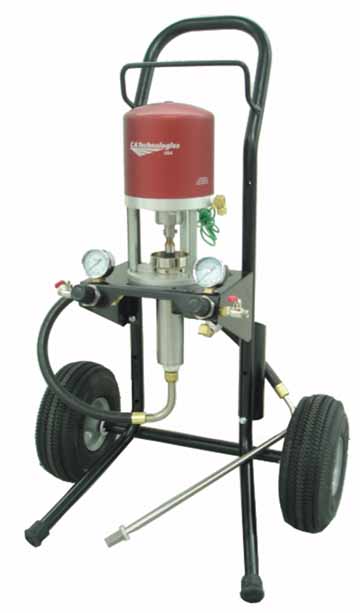 The Air Assist Airless pump from C.A.T. is an all stainless 14:1 ratio pump for production fine finish spraying of wood or other fine finish applications. The air motor incorporates a unique magnetic "no stall" valve design. This simple direct acting valve is also resistant to icing, has a long life carbon fiber cylinder and integrated noise suppression design for quiet operation.The fluid section is all stainless featuring a non-contact pump tube that never wears out. Also featured is a cartridge style piston seal and guide for quick field replacement. Unit has a large capacity solvent cup and 360 degree fluid inlet/outlet orientation.
Specifications:


Pump Ratio 14:1- Max air Pressure 107 psi- Max fluid Pressure 1500 psi- Fluid Volume 1/3 GPM per cycle (supports one gun up to .024 orifice size)


AAA COUGAR PART SHEET | AAA BOBCAT PART SHEET | AAA SALES SHEET
---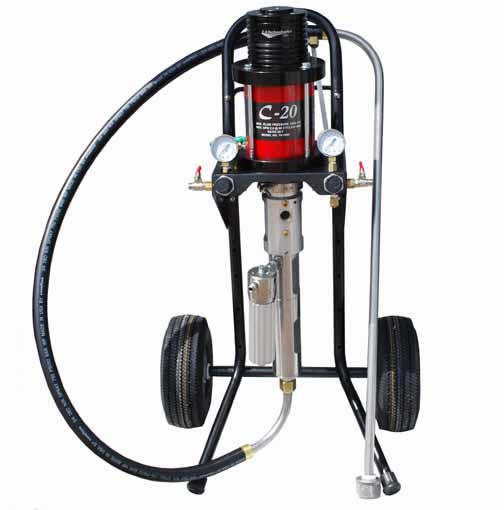 The New Air Assist Airless pump from C.A.T. is an all stainless 20:1 ratio pump for higher viscosity materials and multi-gun operation, incorporates a totally enclosed throat seal to reduce contamination as well as a sight gauge for ease of checking lubricant levels. This is a durable and dependable pump for continuous operation with a 2 GPM displacement for single or multiple gun applications (8 guns up to 13 thousands tip). The air motor magnetic no stall trip mechanism insures smooth pump stroke transition with no "surge" or "wink" in the spray pattern maximizing transfer efficiency. The fluid section is all stainless steel and can be used for most solvent and waterborne coatings, paints, pigmented lacquers, pre and post catalyzed materials and primers. The new "Cat Fast Clamp" makes for easy and rapid removal for maintenance of the fluid section from the air motor. These were built for easy "field" repairs with fewer parts lowering maintenance costs and equipment down time. An optional separate fluid section fluid filter with multiple outlets is also available. The standard fluid section utilizes a spring seal configuration on the lower portion and a self-adjusting "V" packing on the upper portion. An optional self-adjusting "V" packing for the lower portion is also available for more abrasive coatings.
Specifications:


Pump Ratio 20:1- Max air Pressure 100 psi- Max fluid Pressure 2000 psi- Fluid Volume 2 GPM (supports 8 guns up to .013 orifice size)


C20 AAA PART SHEET | C20 AAA SALES SHEET
---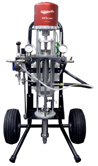 The New CATalyzer™ pump from C.A.T. is an all stainless 10:1 mixing ratio pump for all types of catalyzed fine finishing applications. This pumps innovative design allows a perfect 10 to 1 mixing ratio that is carried out through the "Quad Valve" to reduce the amount of waste when dealing with catalyzed materials. The Quad Valve utilizes two bypass levers, one for the catalyst and one for the base material so that the two can be simultaneously mixed within the pump for easy operation. The MIX GUARD™ is a unique feature of the CATalyzer which senses an "off ratio" condition in the mix chamber and shuts off the unit preventing under or over catalyzed material from being sprayed.
Specifications:


Pump Ratio 10:1- Mix Ratio 10:1- Max air Pressure 107 psi- Max fluid Pressure 1500 psi- Fluid Volume 1/3 GPM per cycle (supports one gun up to .024 orifice size)


CATALYZER PART SHEET | CATALYZER SALES SHEET
---
Air Assist Airless Configurations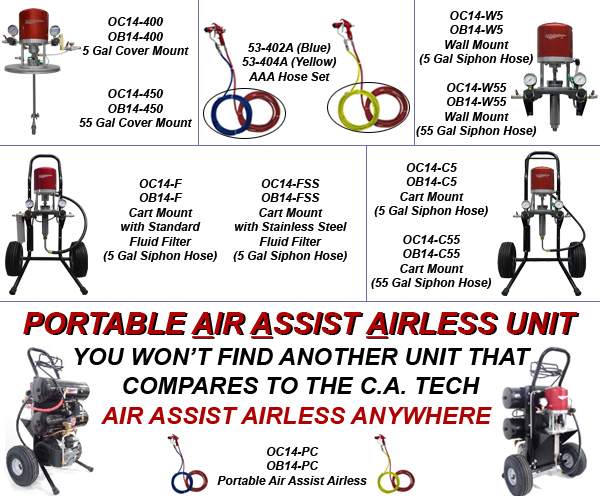 ---
HOME